!-This site was created by Matt Hedges-->


Purchase Simpsons Merchandise Here:


This site has been chosen for the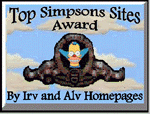 12 Years running and milions of hits, thank you!
The Hedges | Simpsons Site Awards
The Simpsons Site was created by Matt Hedges 1995
Last Updated on Aug. 2, 2007.

1. LEGAL NOTICE* "The Simpsons" tm and copyright Fox and its related companies. All rights reserved. Any reproduction, duplication, or distribution in any form is expressly prohibited.: and
2. DISCLAIMER This web site, its operators, and any content contained on this site relating to "The Simpsons" are not authorized by Fox.